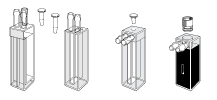 Fluorimeter Semi-Micro Cuvettes
Starna Cells for Fluorimeters ...
---
Starna Cells for Fluorimeters Fluorimeter cells have at least three windows clear. They are designed for use in a fluorimeter which passes an excitation beam through the cell and then reads the fluoresence emission at a 90 degree angle. There are many variations on this theme and we make a wide range of cells to allow you to use everything from normal full volume cells to very small volumes.
Fluorimeter Semi-Micro Flow Cuvettes Type 47-F
TC Screw fittings.
Inlet/outlet tubes - 2 I.D, 4 O.D, 16mm long intended for push-on flexible tubing.
Type 47-F, 47 LTC. Fluorimeter flow cells
LTC Screw fittings.
Semi-micro with screw-on fittings
Type 59. Cube, Cell with tube
Tube ID. 2 OD. 4 Length 70.
Type 61. Constant temperature with stopper
Two polished windows.
Vertical flow tubes
Type 62. Constant temperature with stopper
Type 9-F & 29-F Fluorimeter.Semi-micro.Type 17-F, 18-F & 28-F Fluorimeter. Micro
Fits 12.5mm square cell holder
Base thickness - 3mm
Suitable for use with all standard cell holders
کاتالوگ
| ردیف | شرکت تولید کننده | نام محصول | عنوان | کاتالوگ |
| --- | --- | --- | --- | --- |
| 1 | teknokroma | Fluorimeter Semi-Micro Cuvettes | Starna Cells for Fluorimeters ... | دانلود کاتالوگ |