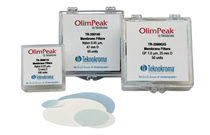 Membrane filters for sample filtration
Membrane filters for sample filtration ...
---
Membrane filters for sample filtration (need the holder 13/25 mm D.) Protect your columns by removing particles from your samples, filtering them with 13 and 25 mm diameter membrane filters. Membrane filters are an economical alternative to syringe filters. They need a filter holder to be used. Available in the following membranes. Nylon, PTFE, PVDF, M.E. Cellulose, Regenerated Cellulose.
One of the main causes of malfunction of high pressure pumps of HPLC equipment is the formation of air bubbles inside the pistons, with the consequent loss of precision in the flow and consequent lack of reproducibility in the mixtures and gradients.
To minimize this problem it is vital to ensure that the eluent enters the pump perfectly degassed.
The use of Uniflow degassing equipment is the most effective, convenient and economical means of ensuring a total absence of dissolved air in the mobile phase.
The design of the Uniflow degassers guarantees a fast stabilization thanks to its minimum dead volume and also reduces the resistance to the suction that other equipments of the market present.
The Uniflow degasser replaces with advantage the classic helium degassed typical in low pressure mixing systems.
Degasys Ultimate for demanding degassing applications for semi-micro and analytical flow rates
Degasys Populaire for routine analytical degassing
Degasys 'the original' for Preparative HPLC and for low cost analytical systems
کاتالوگ
| ردیف | شرکت تولید کننده | نام محصول | عنوان | کاتالوگ |
| --- | --- | --- | --- | --- |
| 1 | teknokroma | Membrane filters for sample filtration | Membrane filters for sample filtration ... | دانلود کاتالوگ |