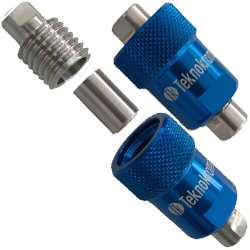 Cartridge Guardcolumn
Interposed between the injector and the column these ...
---
• Interposed between the injector and the column these precolumns lengthen the life of the column and improve the reproducibility of their results. • Packed with the most modern HPLC packings and Novabond™ proprietary packing procedures. • Economic and easily replaced. • For general use in any HPLC system. • Packed at high pressure for maximum stability and duration. • Their use does not imply any loss of efficiency, even with packings of 3 μm or with microbore columns of 2mm ID
NIST test for HPLC packings characterisation
The NIST test uses a mixture of five organic compounds (uracil, toluene, ethylbenzene, quinizarin and amitriptyline).
Uracil is an indicator of column dead volume (non-retained peak).
Toluene/Ethylbenzene the selectivity factor between these two compounds can be used to characterise differences between packing mainly due to hydrophobic interactions.
Quinizarine measures the activity towards chelating reagents.
Amitriptyline measures activity towards bases. It is an excellent indicator of the activity of residual silanols on the surface of the packaging.
The Mediterranean Sea 18 column has been subjected to the SRM870 test. This test designed by NIST, is currently considered to be the most recommended test for evaluating the most significant properties of a reversed phase column
کاتالوگ
| ردیف | شرکت تولید کننده | نام محصول | عنوان | کاتالوگ |
| --- | --- | --- | --- | --- |
| 1 | Teknokroma | Cartridge Guardcolumn | Interposed between the injector and the column these ... | دانلود کاتالوگ |