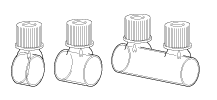 Cylindrical Macro Cuvettes
Cylindrical Cells are used where ...
---
Cylindrical Cells are used where The spectrophotometer has a larger, circular light beam. Starna offers several configurations with pathlengths from 0.01 to 100mm.
Type 32 Cylindrical Anaerobic with screw cap (GL14)
Particularly suitable for stopping evaporation of volatile liquids
GL14 can be fused to most cylindrical cells with either one or two ports
Type 35. Cylindrical. Large diameter
Two polished windows
Closed by PTFE stopper(s), providing a liquid-tight seal.
کاتالوگ
| ردیف | شرکت تولید کننده | نام محصول | عنوان | کاتالوگ |
| --- | --- | --- | --- | --- |
| 1 | teknokroma | Cylindrical Macro Cuvettes | Cylindrical Cells are used where ... | دانلود کاتالوگ |