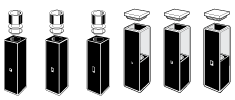 Rectangular Sub-Micro Cuvettes
Rectangular cells are used for most UV/VIS routine ...
---
Rectangular Sub-Micro Cuvettes
Type 15. Sub-micro & Multi-micro, short
Two polished windows
Open top
To be used with holder supplied by instrument manufacturer
Type 16 & 16R. Sub-micro
Sub-micro volumes from 10 microliter to 160 microliter
To avoid possible meniscus errors; it maybe necessary to increase the nominalsample fill volume by at least 20%.
Z dimension measurement or instrument information is required when ordering
May be used with all standard cell holders
Filling and emptying with a pipette isrecommended.
Type 26. Sub-micro & Ultra-micro with stopper
Reduced nominal volume from 10 microliter to 160 microliter.
Rectangular top section with two black walls and two translucent walls
Closed by PTFE stopper, providing a liquid-tight seal
To avoid possible meniscus errors; it may be necessaryto increase the nominal sample fill volume by at least 20%.
May also be used with all standard cell holders.
Z dimension or instrument information required when ordering
Filling and emptying with a pipette is recommended
کاتالوگ
| ردیف | شرکت تولید کننده | نام محصول | عنوان | کاتالوگ |
| --- | --- | --- | --- | --- |
| 1 | teknokroma | Rectangular Sub-Micro Cuvettes | Rectangular cells are used for most UV/VIS routine ... | دانلود کاتالوگ |