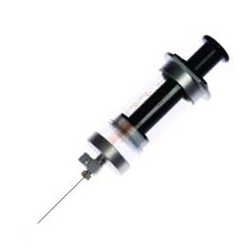 SampleLock Syringes
The Hamilton SampleLock syringes allow you to col ...
---
The Hamilton SampleLock syringes allow you to collect, store, transport and analyze liquid or gaseous samples without the danger of evaporative loss or environmental contamination. Syringes are available in sizes ranging from 50 μL to 100 mL. An easy-to-use twist valve and a positive rear stop on SampleLock prevents loss of sample and plunger blowout. Optional male luer and female luer lock adapter threads on the SampleLock valve making the syringes compatible with a multitude of connectors and fittings.
Hamilton 5 and 25 mL Purge and Trap syringes were designed for the analysis of drinking water samples according to EPA purge and trap concentration techniques (see EPA methods 502.1, 502.2, 503.1, 524.1 and 524.2).
کاتالوگ
| ردیف | شرکت تولید کننده | نام محصول | عنوان | کاتالوگ |
| --- | --- | --- | --- | --- |
| 1 | teknokroma | SampleLock Syringes | The Hamilton SampleLock syringes allow you to col ... | دانلود کاتالوگ |